WrestleCade Revenge Supershow on November 27th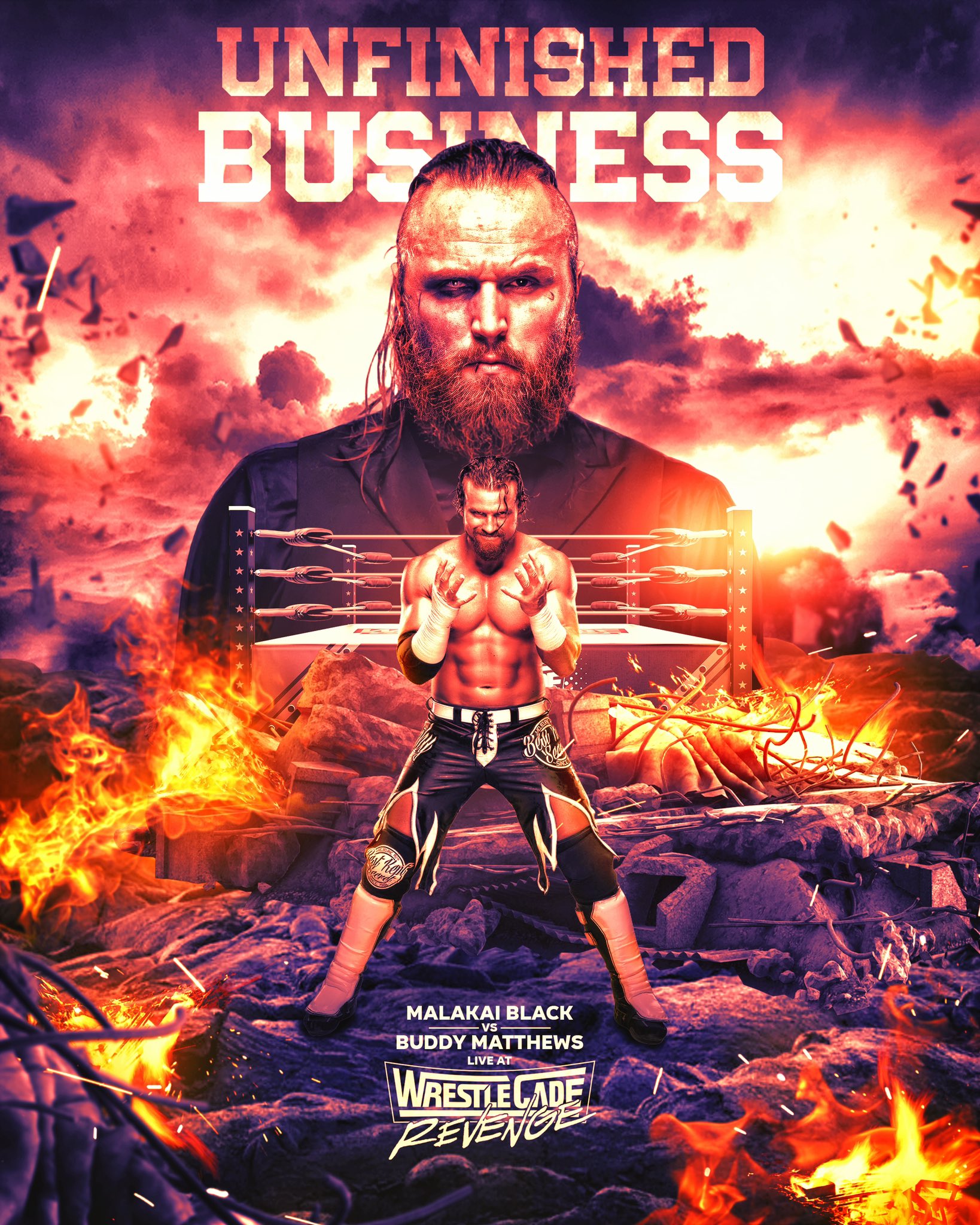 I hate getting sick, but it almost seems like the thing to do in November and December for me. Do I enjoy watching all kinds of wrestling matches when I'm off? YES. Do I enjoy having to catch up on all kinds of wrestling shows that I miss because I'm sick? NO. Do I enjoy not having a voice or a scraggly voice that I can't talk to friends or to you on my podcast, Pro Wrestling Overtime about all the shows or even a certain match? NO.
Well, there's my opening venting paragraph about the last month or so. Let's talk WrestleCade that I wish I could have went to this show. I know many of you want to go to WWE WrestleMania or AEW Double or Nothing. Am I going to turn that down? No way, but if someone asked me about going to WrestleCade or Warrior Wrestling. I would say don't turn it down. GO! The best parts of these kinds of shows are the amount of wrestling superstars you get to see at one place. Plus it seems like the wrestlers know this is a once a year event and they are extremely fan friendly. So go and have a blast…watching, talking, taking pics and reliving your favorite wrestling moments with the stars of yesteryear and of today.
The SuperShow
Now there's a show on Friday night and a meet and greet on Saturday that you don't want to miss, but it's the SuperShow that is the reason you want to go to WrestleCade in Winston-Salem, North Carolina. Even though I didn't get to go this year, I still watched it yesterday. Yes, I know a month later, but guess what? I still enjoyed it and you will too. So go watch it. The first real match of the night was The Rock N Roll Express (Yes, THE Ricky Morton and Robert Gibson) vs The Bollywood Boys (Formerly the WWE Singh Brothers). Now do you see what I'm talking about? I love the Rock N Roll Express. Who doesn't? I last saw them in person at an AEW show and even though they are older they still don't mind taking bumps. It was a good quick match with some funny moments, but it was about nostalgia. 
Caprice Coleman Kept His AML Championship Over Dirty Dango
I didn't know this match was even on this show. What a surprise in more ways than one. Who knew that Caprice Coleman from ROH's commentary desk had a championship? Now I knew that WWE's Fandango had changed his name to Dirty Dango and was excited to see him wrestle singles again and be a heel. He was average in both. I didn't think he was comfortable being a heel. It seemed like he danced because he thought he should. But really should he? I'm not sure it fits his Dirty Dango persona unless it's in a truly dirty way. I don't think he's ready to go there yet. It is almost like he doesn't know who he is or what he wants to give us. I think he has to figure this out before he can enjoy himself and allow us to love his wrestling. Caprice was Caprice.
Rich Swann, Myron Reed and T.I.M. Defeated Matt Cross, Colby Corino and Andrew Everett
Again, I knew these wrestlers were scheduled, but no way did I think they would all be together in a six man tag team match. This was wild. I was glad to see that Colby Corino looked the same as he did in NWA. Awful. I know a lot of you think he has promise, but for some reason I can't get behind him. Not sure why, but there's something. I love Myron Reed from the Indies and MLW. He has a lot of athletic talent, but you can tell when he is away from MLW or Jordan Oliver, it seems like he doesn't get his role. He's not sure what his character would be doing. I wonder if that's the growth we'll see in him in 2022. No comment on Rich Swann. Listeners of the podcast know. Matt Cross also looked good, but also has on MLW. Good match.
George South Got One Over On Heath In This Match
Boy, this match was fun. I love Heath and did in WWE especially his last appearance with Drew McIntyre. Impact Wrestling's Heath has been having some bad luck. However, he looked good in this match and it was straight up his alley with George South. South is HUGE in North Carolina. The fans were singing his song and rooting him on as Heath put him down then did his I Got Kids line. George South used a I Got Grandkids line. Both played the normal house show parts and it was just fun. Not five stars, but a match that some will say they got to see George South in.
PCO Beats Erick Redbeard
I was actually looking forward to this match. Then I got to thinking about it as they were wrestling and started asking myself why. I have never been able to get into PCO. I think I missed some of his career and don't get it. When I'm watching ROH I didn't understand why anyone would root for or against him. Now on the indies, I wonder the same thing. As for the formerly WWE Erick Rowan, I never got him either as a member of the Wyatt Family. Yes, I know I'm one of the few that didn't enjoy the "greatness" of Bray Wyatt. I thought they were a bunch of dirty hobos that Randy Orton should have taken care of the first time. I was expecting Redbeard to reinvent himself, but as we saw he didn't know the Brodie Lee Tribute Show in December 2020 and still hasn't. Cut your beard off, clean up and get a completely new character. People will get you over with your moveset if you can get a believeable character. Right now, everyone just remembers your time with Brodie Lee and Bray.
Jay Lethal Defeated (To My Disappointment) Matt Cardona For This Match
Did I miss something? Seriously, did I? When did Jay Lethal become a Randy "Macho Man" Savage cos-play wrestler? I'm being serious for those who like me didn't know. Jay Lethal came out with Lady Frost as his Miss Elizabeth. What? This doesn't work for me. Sorry. Now let's talk the Star of 2021 Mr. Deathmatch King Matt Cardona. Cardona was playing the perfect heel and the fans loved booing him. He has to win someone's award for Most Heat of 2021. I absolutely salute Matt Cardona for how he has gotten over everywhere this year. It was just too bad that he had to lose to Jay Lethal who had just signed and appeared with AEW. After the match, Jay Lethal brought Jeff Jarrett out. They had a strut contest where Jay Lethal tried to look like Ric Flair doing his strut, but couldn't get close.
Shane Taylor Won The Battle Royal
This Battle Royal I will remember as the one that CW Anderson came out and did a tribute to New Jack. He was dressed as him and brought out all kinds of plunder like the staple gun. Wrestlers in this were Shane Douglas, Swoggle, Johnny Swinger, Sam Houston, Fallah Bahh, Moses, Vik and the other one from The Ascension plus a lot of newer guys.
Triple Threat Match: Thunder Rose Beat Deonna Purrazzo and Mercedes Martinez
This was definitely a close second to Match of the Night. These three women are unbelievable wrestlers and at putting together a match. There were numerous near falls, but even more three person spots which made it appear faster than the normal triple threat. There definitely wasn't a lot of laying around outside of the ring. The finish I had to watch twice because it was put together so well. Deonna Purrazzo thought she won, but didn't. Thunder Rosa was shocked that she had won. Great indie match.
Matt Hardy Defeated NZO
I was expecting Big Money Matt Hardy from AEW's Hardy Financial Office, but no WrestleCade got Broken Matt Hardy from the Multiverse. It just shows what many have been saying that Matt wants to really do Broken Matt again AND wants to do it with Jeff as Brother Nero or Willow. I don't know if we see The Hardy Boyz again. NZO came out with his hair in a mess and did his old WWE saying on the mic. The audience was supposed to fill in most of the lines so like he said afterwards he didn't get sued for using it. However, I think most of the audience was like me and had forgotten it after TWO or THREE years.
I wish I was there, so I could have yelled get over it and move on. NZO does have an it factor, but he HAS to come up with a new character that doesn't rely on the WWE one sooooo much. You can do it right after, but not years later. This match was decent, but they were both off on their timing and didn't appear to work together well. NZO should have used his time off to get into better shape and learn from others. But does he want to? Is wrestling his passion or performing in front of a crowd on the mic?
Malakai Black Beats Buddy Matthews In The Final Match
Malakai Black came out with his new persona he has been using in AEW. The announcers did an excellent job of selling the fact that Black's eye was permanently damaged by the WWE formerly known as Buddy Murphy, now Buddy Matthews. His makeup was perfect to draw attention to his eye. Matthews has spent his time on the non-compete getting serious about his lifting and his agility. I always thought he and Black had great chemistry on WWE, but this match was even better because they had more time to show their talents and skills. I thought it was the Match of the Show and I hope these two wrestle again soon. They really do have great chemistry. At the end they continued their characters and showed their wariness of each other as they talked getting closer and closer. They then shook hands as a way to show respect to each other at the close.
I can't help, but enjoy shows like this. So many wrestling stars in one ring on one night. You used to as a fan only get this maybe one night in a year. Now you can sometimes see this at different events or different indie promotions during a year. My advice…look for these events. A great bang for your buck. Or instead of spending the big money to attend that WrestleMania then attend all the other events that The Collective and other promotions put on that same week leading up to WrestleMania in the same city. Just my two cents. I hope you enjoyed this article reliving WrestleCade from November. Leave your comments about this or other happens in pro wrestling. You can always write me at ProWrestlingOT@gmail.com or subscribe to the Pro Wrestling Overtime podcast on all major podcasting platforms to hear my thoughts, reviews and predictions.